"It's like a dream come true", says captain about Norway Cup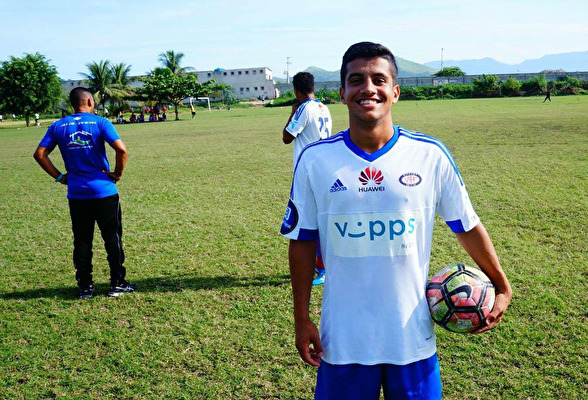 With only five days for the first match, the Brazilian team from the social project Casas da Noruega share the expectations of traveling to Oslo and playing the biggest youth soccer tournament in the world. In addition to the great goal of returning with the gold, this will be the first experience outside of Brazil for most players. "They are very excited, wanting to get to know Norway soon: for many it is a dream come true," says the player and the team's captain Gleidson Bernardo Pinheiro (photo).

This is the second time that Gleidson visits Norway. The first time was last year when he helped the team to be the great champion in the Norway Cup. On Thursday, July 28, the team travels to Oslo and make their league debut on Saturday, July 30, against the local team Farsund. "The players of the team have an idea that Norway is a beautiful and very organized country. When they think of the country, they picture a place full of surprises and I'm sure they will find everything wonderful", promises.

In total there are 18 players who travel this week, 10 of them will debut the passport. "It's the first country I travel outside of Brazil and I'm very anxious to meet. What comes to my mind when thinking about Norway is that it is a very interesting country, the culture is different from Brazil", explains midfielder Renan Azevedo de Faria (18).

When asked what they are going to bring special in the suitcase, the captain says there will be plenty of joy and great football. Gleidson guarantees that their are focused on being champions. "With the union of the group we will play hard," he says.

The Norway Cup is the largest football competition in the world for children and young people from 10 to 19 years of age. Since the start of the event in 1972, the tournament has already registered 420 teams and 8,400 participants. Over the years, participants, players and referees from 126 countries participated in the games. Last year was the first time the Norwegian Houses team competed. In 2017, the event will be held between July 29 and August 5 in Oslo.

About the NGO

The non-governmental organization Casas da Noruega has been working with social and educational projects in the local community of Bancários, in Rio de Janeiro, for eight years. Among its activities, the NGO organizes soccer training for boys and girls as pedagogical support of the school that administers .